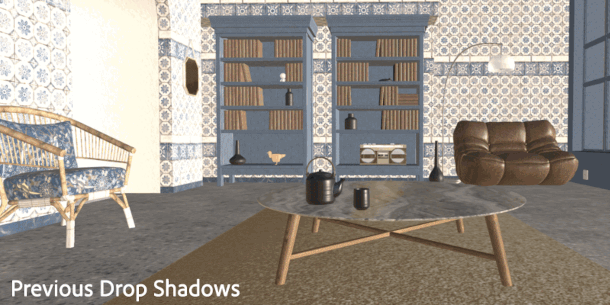 Adobe has released Substance 3D Stager 1.2, the latest version of its scene layout and rendering tool.
The update adds a new Project materials panel for managing scene materials, and improves to the visual quality of the real-time rendering mode, which now supports shadows from environment lighting.
An intuitive way for less specialist 3D artists to create virtual product photographs
Launched last year, Substance 3D Stager is the first application in the Substance product line not designed purely for material authoring, and supersedes Adobe's older Dimension software.
Like its precursor, it is aimed at designers as well as specialist 3D artists, and is intended to provide an intuitive workflow for creating photorealistic brand visualisations and product mockups.
It enables users to lay out scenes using physics-based tools to place 3D primitives or imported models, and comes with libraries of readymade materials and 'environment stages' mimicking real-world studio lighting.
For rendering, Stager uses Adobe's Mercury Rendering Engine, a new hybrid CPU and GPU renderer.

New in version 1.2: real-time rendering mode now supports environment shadows
Substance 3D Stager 1.2 improves the quality of the software's real-time rendering mode, available as an alternative to ray tracing to improve interactive performance in the viewport.
The update replaces the previous system of drop shadows with real-time shadows from image-based environment lighting, generated using a combination of voxel and screen-space shadows.
Users can adjust the shadows via settings for quality, resolution, samples and opacity.
There are also new overall quality presets for real-time renders, ranging from Draft to Ultra.
However, Adobe has removed the option to disable ray tracing automatically when making edits to a scene to improve viewport performance: an option it says was "used by a very low number of people".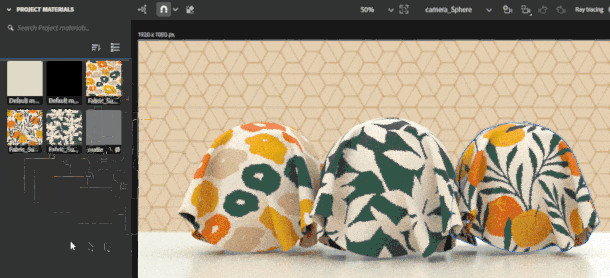 New Project materials panel
The other major new feature in Substance 3D Designer 1.2 is the new dedicated Project materials panel.
It displays thumbnail previews of all the materials in a scene, including those that are currently unused, with users able to sort materials by name or the order in which they were added.
Users can also now assign materials to objects via a right-click menu, as well as dragging and dropping.
In related news, it is now possible to send materials created in Substance 3D Designer, Adobe's material authoring software, directly to Substance 3D Stager, rather than having to export and import .sbsar files.
The workflow was introduced in Substance 3D Designer 12.1, also released today.
Other changes: workflow improvements to the Scene panel
Workflow improvements to the Scene panel include the ability to swipe across objects to toggle states like visibility; and to select cameras along with other object types.
Pricing and system requirements
Substance 3D Stager 1.2 is available for Windows 10 and macOS 10.14+. Perpetual licences cost $149.99.
The software is also available as part of Adobe's Substance 3D Collection subscriptions, which cost $49.99/month or $549.88/year for individuals; $1,198.88/year for studios.
Read more about Substance 3D Stager on Adobe's product website
Read a full list of new features in Substance 3D Stager 1.2 in the online release notes
Tags: , , , , , , , , , , , , , , , , , , , , , , , , , , , , ,