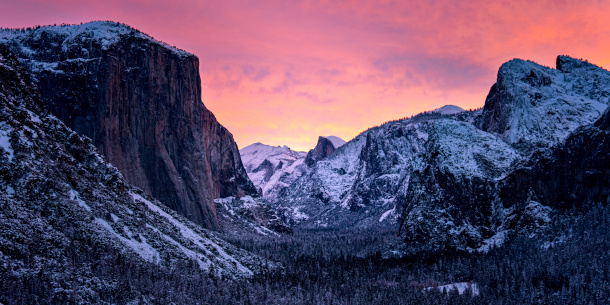 As the Black Friday, Thanksgiving and Cyber Monday sales begin, we've rounded up the best deals for CG artists. Whether you work in VFX, animation, motion graphics or arch viz, there should be something for you.
The software discounts include deals on 3ds Max, Affinity Photo, After Effects, Clarisse iFX, iClone, Maya, Mocha Pro, Modo, OctaneRender, Photoshop, RealFlow, SpeedTree, the Substance tools, Unity and Vue.
We've included hardware if it's CG-related – like Wacom graphics tables and Rokoko mocap systems – along with resources like 3D models, characters and plants, and textures, HDRIs and photographic cutouts.
To keep the list manageable, we aren't covering training or online rendering.
Where possible, we've listed deals direct from the developers, but at the foot of the story, you can find a few via resellers, including deals on Avid and Video Copilot tools for US readers, and deals on V-Ray in Europe.
Updated 1 December: We've updated to show deals that have been extended through December, but at the time of writing, several deals from earlier in the list are also still available.
The offers are in date order, so to jump those available in December, click here.
On 27 November
Who: BalanceConnected
What: All products (architectural 3D models)
When: 'Black Friday'
Discount: 50% – use code BCBF2020 at checkout
Save 50% on BalanceConnected architectural 3D models
Who: CG-Source
What: All products (3D models, textures, HDRIs)
When: 'Black Friday'
Discount: 40%
Save 40% on CG-Source assets
Who: Dimension 5
What: D5 Render (Pro perpetual licences)
When: 27 November
Discount: 15%
Save 15% on D5 Render
Who: Dosch Design
What: All products (3D models, textures)
When: Until 27 November
Discount: 20% – use code doschweek2020 at checkout
Save 20% on Dosch Design 3D models and textures
Who: Eyedesyn
What: All products (includes Cinema 4D character rigs, After Effects add-ons)
When: Unti 27 November
Discount: 35%
Save 35% on Eyedesyn Cinema 4D character rigs and After Effects add-ons
Who: Friendly Shade
What: 3D scanned materials
When: 'Black Friday'
Discount: 50% – use code BLACKFRIDAY at checkout
Save 50% on Friendly Shade scanned materials
Who: Gamma 2.2
What: All products (3D plants, plant cutouts)
When: 'Black Friday'
Discount: 50% – use code black at checkout
Save 50% on Gamma 2.2 3D and cutout plants
Who: HDRMAPS
What: HDRIs
When: 'Black Friday'
Discount: 50%
Save 50% on HDRMAPS HDRIs
Who: Lindalë
What: Skatter and Transmutr for SketchUp
When: 'Black Friday'
Discount: 50% (when buying both plugins)
Save 50% on Skatter and Transmutr for SketchUp
Who: MattePaint
What: All stock images
When: Black Friday
Discount: 30%
Save 30% on MattePaint stock images
Who: PaintStorm Studio developers
What: PaintStorm Studio
When: 'Black Friday'
Discount: 50%
Save 50% on PaintStorm Studio
Who: Photobash
What: Selected products (stock photos)
When: 'Black Friday'
Discount: 30% – use code blackfriday at checkout
Save 30% on Photobash stock photos – offer only available on photobash.co, not photobash.org
Who: RapidMXS
What: Octopus for 3ds Max
When: 'Black Friday'
Discount: 40%
Save 40% on Octopus for 3ds Max
Who: Realistic Paint Studio Developers Team
What: Realistic Paint Studio
When: 'Black Friday'
Discount: 60%
Save 60% on Realistic Paint Studio
Who: Rokoko
What: Motion-capture systems
When: 'Black Friday'
Discount: Buy a SmartSuit Pro or Smartgloves and get six months of Studio Pro and Face Capture free
Save money on Rokoko motion-capture systems
Who: Alex Seneschal
What: HDRIs
When: Until 27 November
Discount: 40-50%
Save on Alex Seneschal studio HDRI packs
Who: Serif
What: All products (Affinity Designer, Affinity Photo, Affinity Publisher, assets)
When: 'Black Friday'
Discount: 30%
Save 30% on Affinity Photo, Affinity Designer and Affinity Publisher
Who: VFX Hut
What: Site membership (access to textures, HDRIs, VDB volumes, VFX assets)
When: 'Black Friday'
Discount: 50% – use code BLKFRIOCTANE at checkout
Save 50% on VFX Hut membership
Who: Richard Yot
What: All products (Modo kits)
When: 'Black Friday'
Discount: 30% – use code friday20 at checkout
Save 30% on Richard Yot's Modo kits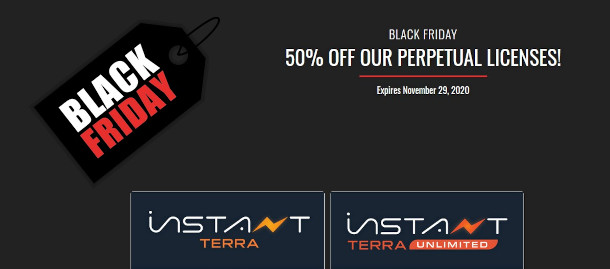 Until 29 November
Who: Betanji
What: All products (3D models)
When: Until 29 November
Discount: 50%
Save 50% on Betanji 3D models
Who: JangaFX
What: EmberGen (Indie annual licence)
When: Until 29 November
Discount: 30% – use code BLACKFRIDAY at checkout
Save 30% on an Indie annual licence of EmberGen
Who: Project Dogwaffle Team
What: Howler
When: 'Through Cyber Weekend'
Discount: 65%
Save 65% on Howler
Who: Richard Rosenman Advertising & Design
What: All products (includes DOF PRO for After Effects or Photoshop)
When: Until 29 November
Discount: 25% – use code BLK25 at checkout
Save 25% on Richard Rosenman plugins including DOF PRO for After Effects or Photoshop
Who: Sketchfab Store
What: All assets (3D models, scans and character rigs)
When: Until 29 November
Discount: 30% – use code BLACKFRIDAY at checkout
Save 30% on assets on the Sketchfab Store
Who: Wysilab
What: Instant Terra, Instant Terra Unlimited (perpetual licenses)
When: Until 29 November
Discount: 50%
Save 50% on Instant Terra and Instant Terra Unlimited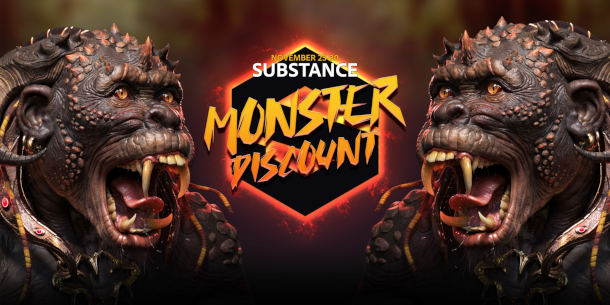 Until 30 November
Who: 3D Collective
What: Selected asset packs (includes 3D models, HDRIs, LUTs, textures)
When: 'Black Friday'
Discount: 25-20%
Save up to 50% on 3D Collective asset packs
Who: 3Dflow
What: 3DF Zephyr Lite
When: Until 30 November
Discount: 30% (perpetual licence)
Save 30% on 3DF Zephyr Lite
You can also subscribe to the full edition of 3DF Zephyr introductory rate of $12 for the first month
Who: 3DTotal
What: All products (includes textures and anatomy reference figures)
When: 30 November
Discount: 20%
Save 20% on 3DTotal products
Who: Adobe
What: Substance Indie subscriptions (access to Substance Painter, Designer and Alchemist)
When: Until 30 November
Discount: 32%
Save 32% on the first year of a Substance Indie subscription
Who: Ace5 studios
What: Selected bundles of Cinema 4D character rigs
When: Until 30 November
Discount: Varies (around 40%)
Save money on Ace5 studios character rigs for Cinema 4D
Who: ArtStation marketplace
What: Selected products (3D models, materials, brushes,
When: 'Cyber Days'
Discount: Up to 70%
Save up to 70% on selected products on the ArtStation marketplace
Who: Aviz Studio
What: All products (3ds Max plugins including ATiles Pro and ATree3D Pro)
When: 'Black Friday and Cyber Monday'
Discount: 35%
Save 35% on Aviz Studio plugins for 3ds Max
Who: AXYZ design
What: Selected products (Anima, stock 3D characters)
When: Until 30 November
Discount: Up to 50% (30% on Anima)
Save 30% on Anima and up to 50% on AXYZ design's 3D characters
Who: BOXX Technologies
What: GoBOXX SLM mobile workstations
When: 'Black Friday and Cyber Monday'
Discount: $200 off (new models), 5% off (reused) – use code SLM20 or REBOXX5
Save on a GoBOXX SLM mobile workstation
Who: Celsys
What: Clip Studio Paint Pro, Clip Studio Paint Ex
When: Until 30 November (US time)
Discount: 50%
Save 50% on Clip Studio Paint
Who: Chaos Czech
What: Corona Renderer for 3ds Max or Cinema 4D (first year of an annual subscription)
When: Until 30 November
Discount: 22% – use code BF20 at checkout
Save 22% on the first year of an annual subscription to Corona Renderer
Who: Corel
What: Painter 2021, CorelDRAW Graphics Suite 2020
When: 'Black Friday' 'Cyber Monday'
Discount: 30% (Painter), 15% (CorelDRAW Graphics Suite)
Save 30% on Corel Painter 2021 – offer includes a brush pack and WinZip 24 Standard
Who: Creative Crops
What: All credit packages (access to 3D scans of food)
When: Until 30 November
Discount: 30%
Save 30% on Creative Crops credit packages
Who: Cubebrush
What: All products (includes 3D models, materials and tools)
When: Until 30 November
Discount: 20% – use code BLACK at checkout
Save 20% on Cubebrush assets
Who: DAZ 3D
What: Selected products (DAZ Studio assets)
When: 'Black Friday' 'Cyber Monday'
Discount: 50%
Save 50% on DAZ 3D assets
Who: Dell
What: Selected products (includes UltraSharp monitors)
When: 'Black Friday' 'Cyber Monday'
Discount: Varies (up to 40% on monitors)
See Dell's deals on monitors, laptops and desktop workstations
Who: Dimensiva
What: Pro membership (access to architectural 3D models)
When: Until 30 November
Discount: 50%
Save 50% on Dimensiva Pro membership
Who: Dviz
What: All products (arch viz assets for Unreal Engine)
When: Until 30 November
Discount: 30% – use code BLACKDVIZ at checkout
Save 30% on Dviz architectural assets
Who: DxO
What: All products (includes Nik Collection for Photoshop, PhotoLab)
When: Until 30 November
Discount: 50%
Save 50% on DxO software including the Nik Collection for Photoshop
Who: EditableArch
What: HDRIs (special Black Friday product bundle)
When: 27-30 November
Discount: 52%
Save 52% on the EditableArch Black Friday HDRI bundle
Who: Effective TDs
What: Selected products (includes Demolition Master for 3ds Max, Storm)
When: 'This week only'
Discount: 15% (Demolition Master), up to 40% (Storm)
Save up to 40% on Storm
Who: Escape Motions
What: All products (including Rebelle, Flame Painter, Inspirit, Amberlight)
When: 'Black Friday' 'Cyber Monday'
Discount: 30%
Save 30% on Escape Motions software like Rebelle and Flame Painter
Who: Eurocom
What: Mobile graphics workstations
When: 'Black Friday and Cyber Monday'
Discount: Varies – buyers 'bid' on the discount they want
Read more about Eurocom's discount offer on its mobile workstations
Who: Evermotion
What: All products (architectural 3D scenes and models)
When: 26-30 November
Discount: 50%
Save 50% on Evermotion architectural 3D assets
Who: FlexTools.cc
What: FlexPack Pro for SketchUp
When: 'Black Friday and Cyber Monday'
Discount: 30%
Save 30% on FlexPack Pro for SketchUp
Who: FlippedNormals
What: All products (includes 3D models, materials, reference images, plugins)
When: 'Black Friday' 'Cyber Monday'
Discount: 50%
Save 50% on FlippedNormals products
Who: forest/digital
What: All products (cutout photographic trees)
When: 'Black Friday to Cyber Monday'
Discount: 20% – use code -20BLACK at checkout
Save 20% on forest/digital cutout photographic trees
Who: Foundry
What: Modo (annual subscriptions and maintenance contracts)
When: Until 30 November
Discount: 30% (subscriptions), 20% (maintenance) – offer applies only to new customers
Save 30% on a new subscription to Modo
Who: FX Elements
What: All products (FX clips)
When: 27-30 November
Discount: Varies (66% on individual clips)
Save 66% on FX Elements stock FX clips
Who: FxFactory
What: All products (inludes plugins for After Effects and DaVinci Resolve)
When: Until 30 November
Discount: 30%
Save 30% on FxFactory plugins
Who: Globe Plants
What: All products (3D plants)
When: 'Black Friday' 'Cyber Monday'
Discount: 40% – use code RONEN-BF20 at checkout
Save 40% on Globe Plants 3D plants
Who: Graswald
What: Graswald and Graswald Pro for Blender, 3D plant library for 3ds Max
When: Until 30 November
Discount: 30%
Save 30% on Graswald products
Who: HDRI-Hub
What: Selected assets (all HDRI skies, backplates, photos, stock movies and textures)
When: 27-30 November
Discount: 40% – use code BLACK at checkout
Save 40% on HDRI-Hub assets
Who: Iconscout
What: Annual subscriptions (gives access to vector icons and stock 3D asets)
When: 'Black Friday' 'Cyber Monday'
Discount: 50%
Save 50% on Iconscout subscriptions
Who: Huion
What: All products (graphics tablets and pen displays)
When: Until 30 November
Discount: Up to 30% (20% on Kamvas Pro 22 pen display)
Save 20% on a Huion Kamvas Pro 22 pen display
Who: Human Alloy
What: All products (3D characters)
When: 'Black Friday' Until 30 November
Discount: Up to 50%
Save up to 50% on Human Alloy 3D characters
Who: Humano
What: All products (3D characters)
When: 25-30 November
Discount: 30% – use code -30BF at checkout
Save 30% on Humano 3D characters
Who: Illuminated Tools
What: All products (light probes)
When: Until 30 November
Discount: 50% – use code thanksies at checkout
Save 50% on Illuminated Tools light probes
Who: iToo Software
What: Selected products (includes Forest Pack Pro, RailClone Pro, The3dGarden plant libraries for 3ds Max)
When: 27-30 November
Discount: 33% (standalone licences)
Save 33% on Forest Pack Pro, RailClone Pro and The3dGarden
Who: KeenTools
What: FaceBuilder for Blender or Nuke
When: Until 30 November
Discount: 35% – use code BFCM2020 at checkout
Save 35% on FaceBuilder for Blender or Nuke
Who: Kinematic Lab
What: All products (3ds Max plugins)
When: Until 30 November
Discount: 50% – use code FRIDAY at checkout
Save 50% on Kinematic Lab 3ds Max plugins
Who: Lens Distortions
What: All products (VFX elements, LUTs)
When: Until 30 November
Discount: $30 off all products
Save $30 on Lens Distortions products
Who: Lightmap
What: HDR Light Studio (perpetual licences and subscriptions)
When: 27-30 November
Discount: 15-30%
Save up to 30% on HDR Light Studio
Who: Lenovo
What: Selected products (includes graphics workstations)
When: 'Black Friday' 'Cyber Monday'
Discount: Varies (typically 40-50%) – use code THINKBFSALE at checkout
Save up to 50% on Lenovo graphics workstations – US only: other offers available in other countries
Who: Location Textures
What: All products (reference photos and panoramas)
When: Until 30 November
Discount: 50% – use code blackfriday at checkout
Save 50% on Location Textures reference photos and panoramas
Who: Lutify.me
What: Selected products (Professional package of 3D LUTs)
When: Until 30 November
Discount: 30% – use code BF202030OFF at checkout
Save 30% on the Lutify.me Professional package
Who: Marmoset
What: Toolbag (all licences)
When: Until 30 November
Discount: 15% (launch discount for Toolbag 4.0)
Save 15% on Marmoset Toolbag
Who: MattePaint
What: Credits for access to stock image library
When: 23 December 2020 to 2 January 2021
Discount: Double credits for the first month of any new subscription
Save double credits on the first month of new MattePaint subscriptions
Who: model+model
What: All products (3D models)
When: Until 30 November
Discount: 30% – use code BF2020 at checkout
Save 30% on model+model models
Who: MoonGorilla
What: Coolorus for Photoshop
When: 'Black Week'
Discount: 30% – use code #5AB9D040 at checkout
Save 30% on Coolorus for Photoshop
Who: Motiva
What: Layama
When: Until 30 November
Discount: 30% – use code MOTIVABF2020 at checkout
Save 30% on Layama
Who: Next Limit
What: Maxwell (includes standalone, 3ds Max, Cinema 4D and Maya editions)
When: 27-30 November
Discount: 50%
Save 50% on Maxwell
Who: Next Limit
What: RealFlow (standalone, 3ds Max, Cinema 4D and Maya editions)
When: 27-30 November
Discount: 50%
Save 50% on RealFlow
Who: Oleg Ushenok
What: All products (kitbash sets, 3D models)
When: 'Black Friday' Until 30 November
Discount: 50%
Save 50% on Oleg Ushenok's kitbash sets
Who: Pilgway
What: 3D-Coat
When: 26-30 November
Discount: $100 off (26% discount on Professional licences)
Save $100 on 3D-Coat
Who: Pushing Points (William Vaughan)
What: All products (Modo kits and training)
When: Until 30 November
Discount: 30% – use code ppbf2020
Save 30% on Pushing Points Modo kits
Who: R3DS (Russian3DScanner)
What: Wrap, Wrap4D, ZWrap
When: Until 30 November
Discount: 50%
Save 50% on Wrap, Wrap4D or ZWrap
Who: RD-Textures
What: All products (3D textures)
When: 'Black November'
Discount: 50% – use code BF-2020
Save 50% on RD-Textures assets
Who: Reallusion
What: All software (includes iClone, Character Creator, Character Animator)
When: Until 30 November
Discount: 'Buy two, get 50% off'
Save money on bulk purchases of Reallusion software including iClone and Character Creator
Who: Renderosity marketplace
What: All products (Poser and DAZ Studio assets)
When: Until 30 November
Discount: 50%
Save 50% on assets from Renderosity marketplace
Who: SiNi Software
What: All products (3ds Max and UE4 plugins including IgNite, SiClone, Disperse, ProxSi)
When: 'Black Friday to Cyber Monday'
Discount: 30% – log into your account first and use code BFCM20 at checkout
Save 30% on SiNi plugins for 3ds Max and Unreal Engine
Who: Soft8Soft
What: Verge3D for 3ds Max, Blender or Maya
When: Until 30 November
Discount: 25%
Save 25% on Verge3D for 3ds Max, Blender or Maya
Who: SpinVR
What: BRIO (annual subscription)
When: Until 30 November
Discount: 30%
Save 30% on an annual subscription to Brio
Who: Texture Supply
What: All products (textures)
When: Until 30 November
Discount: 30%
Save 30% on Texture Supply textures
Who: Topaz Software
What: Topaz Suite (includes Gigapixel AI)
When: 'Black Friday' 'Cyber Monday'
Discount: 68%
Save 68% on Topaz Suite
Who: TFMSTYLE (The French Monkey)
What: Cinema 4D plugins, HDRI packs, 3D asset packs
When: 'Cyberweek'
Discount: 45-55%
Get up to 55% off TFMSTYLE plugins and asset packs
Who: The Pixel Lab
What: All products (includes 3D models, materials, VDB assets)
When: 'All week'
Discount: 30% – use code FALLSALE2020
Save 30% on The Pixel Lab assets
Who: Thinkinetic
What: Pulldownit Pro for 3ds Max and Maya
When: Until 30 November
Discount: 25% – use code BLACK20 at checkout
Save 25% on Pulldownit Pro for 3ds Max or Maya
Who: Triangle Form
What: All products (3D models)
When: 27-30 November
Discount: 50% – use code BF2020 at checkout
Save 50% on Triangle Form models
Who: U-Render Visual Technology
What: U-Render renderer for Cinema 4D
When: Until 30 November
Discount: 33%
Save 33% on U-Render for Cinema 4D
Who: VIShopper
What: All credits (to buy cutout people, plants and stock images)
When: 27-30 November
Discount: 50%
Save 50% on VIShopper credits
Who: VizPeople
What: All products (photographic cutout people, 3D models, textures)
When: 27-30 November
Discount: 50%
Save 50% on VizPeople assets
Who: Wacom (US)
What: Intuos S graphics tablet
When: Until 30 November
Discount: 25%
Save 25% on a Wacom Intuos S graphics tablet – offer only available in the US
Who: WZX (Romain Chauliac)
What: Maya scripts (includes BrickIt, ModIt, PlugIt, ShadeIt), Houdini assets
When: 'Black Friday week'
Discount: 50% – use code bfwzx2020 at checkout
Save 50% on WZX Maya scripts and Houdini assets
Who: Xfrog
What: All products (3D plants, Xfrog software)
When: 25-30 November
Discount: 60%
Save 60% on Xfrog products
Until December
Who: 3D Scan Store
What: All products (3D scanned human figures, heads and body parts)
When: Until 1 December
Discount: 50%
Save 50% on 3D Scan Store human figures
Who: 3D Scan Store
What: Personal licences of all products (3D scanned human figures, heads and body parts)
When: Until 5 January 2021
Discount: 50%
Save 50% on 3D Scan Store human figures
Who: ActionVFX
What: All products (stock effects clips)
When: 27 November to 4 December
Discount: 50% (55% on 27 November)
Save up to 55% on ActionVFX stock effects clips
Who: ActionVFX
What: All products (stock effects clips)
When: 21-25 December
Discount: 30% (individual clips and bundles), 50% (entire library)
Save 30% on ActionVFX stock effects clips
Who: Adobe
What: All Apps annual subscriptions (includes After Effects, Photoshop, Premiere Pro)
When: Until 27 November 3 December
Discount: 25% (annual plan paid monthly), 20% (annual plan)
Save up to 25% on Adobe All Apps annual subscriptions
Who: Adobe
What: Substance Painter 2021 and Substance Designer 2021 (Indie perpetual licences)
When: Until 26 January 2021
Discount: 20% (on pre-orders via Steam: also gives immediate access to the 2020 editions)
Save 20% when pre-ordering Substance Painter 2021 or Substance Designer 2021 on Steam
Who: AEJuice
What: Selected products (After Efects add-ons and assets)
When: Until 27 November 'Cyber Monday' Until 2 December
Discount: 50% (individual products), $149 bundle price for all products
Save 50% on AEJuice After Effects add-ons and assets
Who: aescripts + aeplugins
What: Selected products (After Effects plugins)
When: 30 November to 4 December
Discount: TBC
Read more about aescripts + aeplugins' upcoming 'cyber week' sale
Who: Aixterior
What: All products (3D scanned plants and nature assets)
When: 'November sales'
Discount: 50% – use code AIXNOVSALE50 at checkout
Save 50% on Aixterior 3D scanned assets
Who: Anastasiy
What: All products (Photoshop add-ons including MagicPicker, MagicSquire, MagicTints, MixColors)
When: Until 1 December
Discount: 30-50% (individual products), 50-60$ (bundle deals)
Save money on Anastasiy Photoshop add-ons
Who: Autodesk
What: 3ds Max, Maya (one-year and three-year subscriptions)
When: 27 November Until 4 December
Discount: 25%
Save 25% on 3ds Max subscriptions – US store: other local Autodesk online stores have similar deals
Save 25% on Maya subscriptions – US store: other local Autodesk online stores have similar deals
Who: BBB3viz (Bertrand Benoit)
What: Selected products (architectural 3D models)
When: Until 1 December
Discount: 40%
Save 40% on BBB3viz architectural 3D models
Who: BFX Digital Marketplace
What: All products (toon-style Maya FX set-ups, Maya plugins)
When: 10-15 December
Discount: 50%
Save 50% on BFX Digital Marketplace FX assets for Maya
Who: BiteTheBytes
What: World Creator
When: Until 29 November 7 December
Discount: 30%
Save 30% on World Creator
Who: Boris FX
What: All products (includes Continuum, Mocha Pro, Sapphire, Silhouette)
When: Until 27 November 4 December
Discount: 25% (individual products), 50% (new perpetual licences of product bundles)
Save 25% on BorisFX software including Continuum, Mocha Pro, Sapphire and Silhouette
Who: Blender Market
What: Selected products (Blender assets and add-ons)
When: Until 1 December
Discount: 25%
Save 25% on Blender Market assets
Who: SpinVR
What: BRIO subscriptions
When: 30 December 2020 to 1 January 2021
Discount: Up to 30%
Save up to 30% on BRIO subscriptions
Who: Capturing Reality
What: RealityCapture
When: Until 6 January 2021
Discount: 30% (subscriptions), 40% (Pay Per Image credits)
Save 40% on RealityCapture credits
Who: CGTrader
What: Selected products (3D models)
When: Until 1 December
Discount: Up to 70%
Save up to 70% on selected CGTrader models
Who: Crunchy Creatives
What: Physics Now! for After Effects
When: 27 November to 4 December
Discount: 25% – use code BLACK25 at checkout
Save 25% on Physics Now! for After Effects
Who: Cylind.Space
What: Annual subscriptions (access to library of cutout people)
When: Until 30 November
Discount: 30%
Save 30% on Cylind.Space subscriptions
Who: Design Connected
What: Selected products (architectural 3D models)
When: Until 7 December
Discount: Varies
Save money on Design Connected architectural 3D assets
Who: Erik Lehmann
What: All products (Maya tools, including Build Kit)
When: Until 2 December
Discount: 30% – use code cybersale at checkout
Save 30% on Erik Lehmann's Maya tools like Build Kit
Who: e-on software
What: Annual subscriptions (Vue, PlantFactory, PlantCatalog)
When: Until 7 December 4 January
Discount: 50% 30%
Save 30% on subscriptions to Vue, PlantFactory and PlantCatalog
Who: Efim Armand
What: DriverMaster for 3ds Max
When: Until 4 December
Discount: 50% – use code FRIDAY50 at checkout
Save 50% on DriverMaster for 3ds Max
Who: Epic Games (Unreal Marketplace)
What: Selected assets (Unreal Engine add-ons and 3D assets)
When: Until 2 December
Discount: Varies (up to 70%)
Save up to 70% on Unreal Engine assets on Unreal Marketplace
Who: Evermotion
What: Selected products (architectural asset collections)
When: 8-22 December
Discount: Buy two collections to get one free
Save on bulk purchases of Evermotion architectural asset collections
Who: ExLevel
What: GrowFX
When: Until 4 December
Discount: 50%
Save 50% on GrowFX for 3ds Max
Who: FXhome
What: All Pro products (HitFilm Pro, Ignite Pro, Action Pro, Imerge Pro, PhotoKey Pro)
When: Until 4 December
Discount: 40%
Save 40% on FXhome software like HitFilm Pro
Who: Greyscalegorilla
What: All products (Cinema 4D plugins, materials, HDRIs)
When: 9 December
Discount: 40%
Save 40% on Greyscalegorilla Cinema 4D plugins and assets – offer available on 9 December only
Who: HP
What: Selected products (includes Z1, Z2 and ZBook workstations)
When: 'Black Friday' 'Cyber Monday' 'Cyber Week'
Discount: Up to 65%
Save up to 65% on HP graphics workstations – US only: other offers available in other countries
Who: Hum3D
What: Selected assets (3D models)
When: Until 1 December
Discount: 20%
Save 20% on 3D models from Hum3D
Who: IDV Software
What: All products (includes SpeedTree software, tree models)
When: 27 November to 4 December
Discount: 30%
Save 30% on SpeedTree software and 3D trees
Who: Insydium
What: All perpetual licences (X-Particles and Cycles 4D for Cinema 4D)
When: Until 2 December
Discount: 50% – use code BLACK50 at checkout
Save 50% on perpetual licences of X-Particles and Cycles 4D
Who: Isotropix
What: Clarisse iFX, CNode (indie licences and subscriptions)
When: Until 2 December
Discount: Up to 40% off
Save up to 40% on an indie licence of Clarisse iFX
Who: KitBash3D
What: All products (kitbash asset kits)
When: 'Cyber Month' Until 4 December
Discount: Up to 50%
Save up to 50% on KitBash3D asset kits
Who: Kstudio
What: All products (3D models, 3ds Max plugins including Project Manager)
When: Until 4 December
Discount: 30%
Save 30% on Kstudio 3ds Max plugins like Project Manager
Who: Laubwerk
What: All products (includes 3D plants kits, SurfaceSpread)
When: Until 4 December
Discount: 25-55% (varies with number of kits bought) – use these offer codes
Save 25-55% on Laubwerk 3D plant kits
Who: Luxion
What: KeyShot
When: 30 November (new licences), 30 November to 4 December (upgrades and add-ons)
Discount: 20% (upgrades) – use these codes at checkout
Save 20% on KeyShot upgrades
Who: Magix
What: Selected products (includes Vegas Pro)
When: Until 30 November 7 December
Discount: Varies (30% on Vegas Pro)
Save 30% on Vegas Pro
Who: Marius Silaghi
What: All products (3ds Max plugins)
When: Until 'November 2nd' – presumably 2 December
Discount: 25%
Save 25% on Marius Silaghi's 3ds Max plugins
Who: Marmoset
What: Toolbag (perpetual licences, first 12 months of annual subscriptions)
When: 22-30 December
Discount: 15%
Save 15% on Marmoset Toolbag
Who: Maxtree
What: All products (3D plant models)
When: 27 November to 3 December
Discount: 50% – use code RONEN-BF20 at checkout
Save 50% on Maxtree 3D plant models
Who: MotionVFX
What: All products (motion design templates, FCP X plugins)
When: Until 2 December
Discount: 30%
Save 30% on MotionVFX products
Who: Nevercenter
What: All products (includes Silo)
When: 'Holiday'
Discount: 35% – use code HOLIDAY at checkout
Save 35% on Silo
Who: Next Limit
What: Maxwell (includes standalone, 3ds Max, Cinema 4D and Maya editions)
When: Until 31 December 2020
Discount: 30%
Save 30% on Maxwell
Who: Next Limit
What: RealFlow (standalone, 3ds Max, Cinema 4D and Maya editions)
When: Until 31 December 2020
Discount: 30%
Save 30% on RealFlow
Who: Nukeygara
What: Akeytsu (Indie licences and subscriptions)
When: Until 1 December
Discount: 40% (Indie perpetual licence), 45% (Indie annual subscription)
Save 40% on a perpetual Indie licence of Akeytsu
Who: Otoy
What: OctaneRender (new OctaneRender Enterprise / RNDR+ subscription)
When: Launched on Black Friday weekened
Discount: N/A – new product bundle
Find details of Otoy's new OctaneRender Enterprise / RNDR+ subscription bundle
Who: PG Skies
What: All products (HDRI skies)
When: Until 1 December
Discount: 50% – use code BLACK50 at checkout
Save 50% on PG Skies HDRI skies
Who: Pulze
What: Selected products (including Scene Manager for 3ds Max)
When: 27 November to 14 December 24 December
Discount: 15% – use code BF2020 at checkout
Save 15% on Pulze's Scene Manager for 3ds Max
Who: RandomControl
What: Maverick Indie, Maverick Studio (perpetual licences and annual subscriptions)
When: Until 3 December
Discount: 20% (Indie), 30% (Studio) – use code BFINDIE or BFSTUDIO at checkout
Save 20% on Maverick Indie or 30% on Maverick Studio
Who: Reallusion
What: All software (includes iClone, Character Creator, Character Animator)
When: Until 4 January 2020
Discount: Up to 50% (25% on iClone)
Save 25% on iClone and up to 50% on other Reallusion software
Who: Renderpeople
What: All products (3D characters)
When: 27 November to 4 December
Discount: Up to 50% (additional 20% discount on top of normal deals)
Save an extra 20% on Renderpeople assets
Who: Rizom-Lab
What: Selected products (includes Rizom-UV VS and Rizom-UV RS)
When: Until 1 December
Discount: 25% – use code THXGIVN20 at checkout
Save 25% on Rizom-UV
Who: Rizom-Lab
What: Selected products (includes Rizom-UV VS and Rizom-UV RS)
When: Until 4 January 2021
Discount: 20% – use code xmas20 at checkout
Save 20% on Rizom-UV
Who: SiNi Software
What: All products (3ds Max and UE4 plugins including IgNite, SiClone, Disperse, ProxSi)
When: Until 31 January 2021
Discount: 20% – log into your account first and use code Jan2021 at checkout
Save 20% on SiNi plugins for 3ds Max and Unreal Engine
Who: Skylum
What: Humble Bundle deal on photo-editing software (includes Luminar, Aurora HDR)
When: Until 2 December
Discount: Varies (pay $25 or more to unlock Luminar and Aurora HDR)
Check out Skylum's Humble Bundle deal on software including Luminar and Aurora HDR
Who: Turbo Squid
What: Selected assets (3D models)
When: Until 1 December
Discount: 40-50%
Save up to 50% on 3D models from Turbo Squid
Who: Unity Technologies
What: Selected Unity Store assets
When: Until 4 December
Discount: 50-70%
Save up to 70% on selected assets from the Unity Store
Who: Unity Technologies
What: Unity Pro and Unity Enterprise subscriptions
When: Until 4 December
Discount: Includes free one-year subscription to a Unity add-on service like MARS, ArtEngine or Reflect
Get a free add-on service with a new Unity Pro or Unity Enterprise subscription
Who: Vertex Library
What: All products (3D grass assets, bark textures)
When: Until 5 December
Discount: 50%
Save 50% on Vertex Library 3D plant assets
Who: VizPark
What: All products (3ds Max plugins, 3D plants, materials, HDRIs)
When: Until 1 December
Discount: 30%
Save 30% on Vizpark assets and 3ds Max plugins
Who: Wacom (US)
What: Intuos Pro Medium graphics tablet
When: Until 12 December
Discount: 13%
Save 13% on a Wacom Intuos Medium graphics tablet – offer only available in the US
Who: XMD Source
What: Lifetime membership (access to ZBrush brushes and alphas)
When: 'Early Black Friday' 'Cyber Week' 'Christmas'
Discount: 70% – use code SANTA at checkout
Save 70% on XMD Source lifetime membership
Who: XP-Pen (US)
What: All products (graphics tablets and pen displays)
When: Until 1 December
Discount: 10-30%
Save up to 30% on XP-Pen graphics tablets and pen displays – offer only available in the US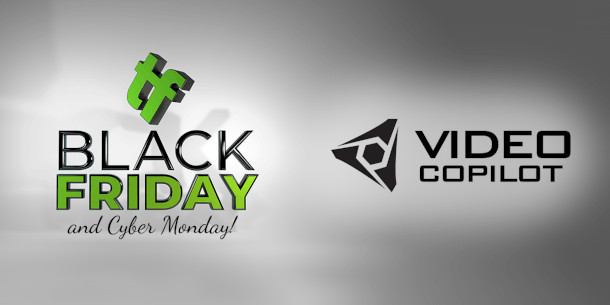 Available via resellers
Who: Newegg (US)
What: Selected products (includes Nvidia GeForce RTX and AMD Radeon RX GPUs)
When: 'Black Friday'
Discount: Varies
Save money on GPUs, workstations and laptops via Newegg
Who: Novedge (US)
What: Selected products (includes annual subscriptions to Avid Media Composer)
When: Varies (until 27 November for Avid)
Discount: Varies (25% for Media Composer subscriptions)
Save 25% on Avid Media Composer subscriptions via Novedge
Who: PCC Polska (EMEA: Europe, excluding Russia)
What: 3ds Max, Maya (one-year and three-year subscriptions)
When: Until 4 December
Discount: 26% – use code BFSALEMCH at checkout for a further 3% discount
Save up to 29% on 3ds Max and Maya subscriptions via PCC Polska
Who: PCC Polska (EMEA: Europe, excluding Russia)
What: Selected products (includes V-Ray)
When: Until 4 December
Discount: 15% (V-Ray)
Save 15% on V-Ray via PCC Polska
Who: Toolfarm (US)
What: Videocopilot software (includes Element 3D for After Effects)
When: 27-30 November
Discount: 25%
Save 25% on Video Copilot software via Toolfarm
Tags: , , , , , , , , , , , , , , , , , , , , , , , , , , , , , , , , , , , , , , , , , , , , , , , , , , , , , , , , , , , , , , , , , , , , , , , , , , , , , , , , , , , , , , , , , , , , , , , , , , , , , , , , , , , , , , , , , , , , , , , , , , , , , , , , , , , , , , , , , , , , , , , , , , , , , , , , , , , , , , , , , , , , , , , , , , , , , , , , , , , , , , , , , , , , , , , , , , , , , , , , , , , , , , , , , , , , , , , , , , , , , , , , , , , , , , , , , , , , , , , , , , , , , , , , , , , , , , , , , , , , , , , , , , , , , , , , , , , , , , , , , , , , , , , , , , , , , , , , , , , , , , , , , , , , , , , , , , , , , , , , , , , , , , , , , , , , , , , , , , , , , , , , , , , , , , , , , , , , , , , , , , , , , , ,