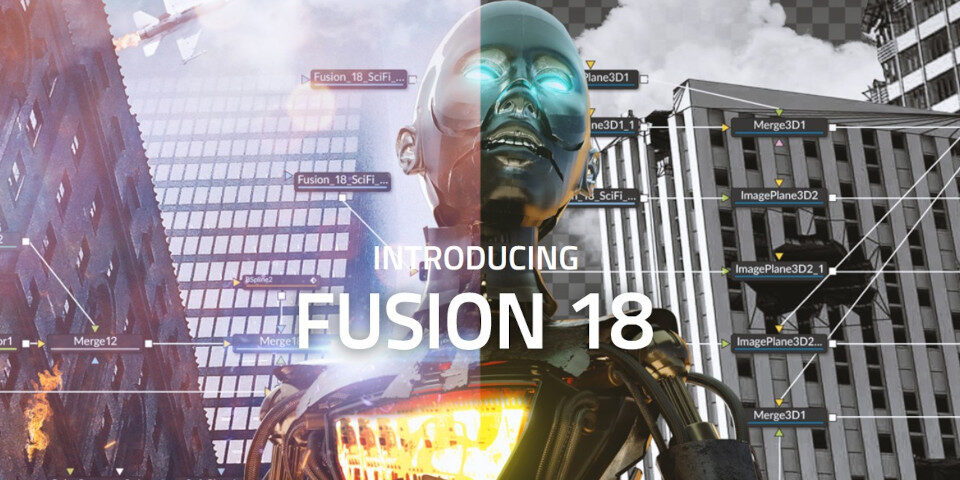 Blackmagic Design has released Fusion Studio 18.0, the latest version of the compositing software, in beta.
New features include a Custom Poly modifier for creating animatable strokes and masks, new blending modes, updates to the paint and duplicate tools, fractional UI scaling, and support for Python 3.
Released in parallel to the updated version of Fusion inside Da Vinci Resolve 18.0
A version of the Fusion toolset is included in DaVinci Resolve 18.0, the latest version of Blackmagic Design's colour grading, editing and post-production tool, which has also just been released in beta.
As a result, the feature descriptions on the What's New page on Blackmagic's website are written for the integrated version of the Fusion toolset within DaVinci Resolve, and include changes unique to it.
New Custom Poly modifier and blend modes, updates to the paint and duplicate tools
New features in Fusion Studio 18.0 itself include a Custom Poly modifier for creating masks and strokes, which can be animated via expressions.
There are also "multiple new composition blend modes" – sadly, there isn't a full list in the release notes.
The paint tool is now GPU-accelerated, and should generate smoother strokes; and the duplicate tool is also now faster, and gets "additional blur, glow and size controls".
Workflow improvements include fractional UI scaling in Preferences; multi-button mode selection in the Inspector for "multiple tools"; and when working with text, the Text+ colour picker supports live previews.
Support for the current versions of OpenColorIO, OpenEXR and Python
Other updates include support for OpenColorIO 2.1.1 and OpenEXR 3.1.4, the versions of the colour management standard and EXR file format listed in the 2022 VFX Reference Platform specification.
Fusion Studio also now supports "all modern and future" versions of Python 3 for scripting.
Pricing and system requirements
Fusion Studio 18.0 is available in beta for Windows 10, macOS 10.14.6+ and CentOS 7.3 Linux. Blackmagic Design hasn't announced a final release date.
New licences of Fusion Studio cost $295. The update is free to existing users.
The Fusion toolset in the free edition of Da Vinci Resolve has a maximum image resolution of 16k x 16k and lacks network rendering and advanced playback capabilities. See a feature comparison table.

Read a full list of new features in Fusion Studio 18.0 on Blackmagic Design's forum
Visit the Fusion product website
Tags: , , , , , , , , , , , , , , , , , , , , , , , , , , , , , , , , , ,