Originally posted on 17 January 2020. Scroll down for news of version 6.0.
Indie game developer 2112 Games has made Ptolemee, its lightweight app for browsing and organising PBR materials, available for macOS as well as Windows.
A lightweight viewer and organiser for PBR materials aimed at game artists
First released last year, Ptolemee is designed for browsing large sets of PBR texture sets, with support for a standard range of 2D file formats: JPEG, PNG, BMP, PSD, TGA, HDR and PIC.
The tool, which is built on Unreal Engine, scans a user's materials folder and loads sets of textures automatically, using keyword matching to identify the individual texture maps.
Materials are displayed with user-customisable 3D previews, displayed on a set of simple geometry primitives. The previews support displacement, plus the option to change the light angle.
Users can also add custom tags to materials and filter material sets based on those tags.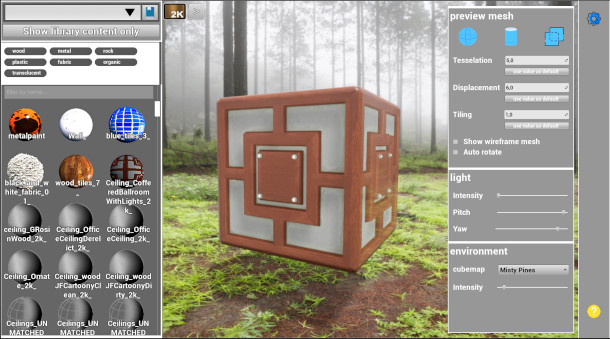 Updated 13 July 2020: Ptolemee 6.0 is out. The update adds the option to set an environment background for 3D previews, making it possible to view materials under the same lighting conditions as the final scene.
It is also now possible to customise the default values for tessellation, displacement and tiling in previews; and the software's interface and file browser have been updated.
Pricing and system requirements
Ptolemee is avaialble for Windows 10 and macOS. It costs $4.99.
Read more about Ptolemee in 2112 Games' Gumroad store
Tags: , , , , , , , , , , , , , , ,