Editor's note: this story was first posted back in 2012, when the Terrain plugin was originally released. We've now updated it to reflect changes to the software and to its sister products since then.
Artist and developer Chris West has updated his popular automated terrain-generation plugin for 3ds Max.
The plugin, known simply as Terrain, downloads DEM digital elevation data available online for a latitude and longitude the user specifies, and converts it into a 3ds Max mesh.
The 2021 update increases the resolution of the DEM data for parts of the Earth outside the US, now recreating details down to 1 arc-second, or around 30m in size on the ground.
Automatically generate 3D terrain for any part of the Earth except the poles
Terrain pulls DEM (Digital Elevation Model) data available online into 3ds Max, and converts it into a 3D recreation of the corresponding part of the Earth's surface.
It access DEM data for 80% of the Earth's landmass, covering the region between 60°N and 54°S: that is, anywhere except Antarctica, Greenland, and the north of Alaska, Canada, Scandinavia and Russia.
Dragging or zooming causes the plugin to fetch new DEM data and rebuild the mesh automatically; and the plugin also automatically interpolates to fill in any local areas of missing data.
All of the parameters, which include zoom level, vertical scale – and even sea level – are fully animatable.
The model can be coloured automatically, either assigning vertex colours to it according to elevation, or photographic textures from Google Earth data.
The plugin also imports some 3D data from Google Earth – points, lines and polygons – in .kml format.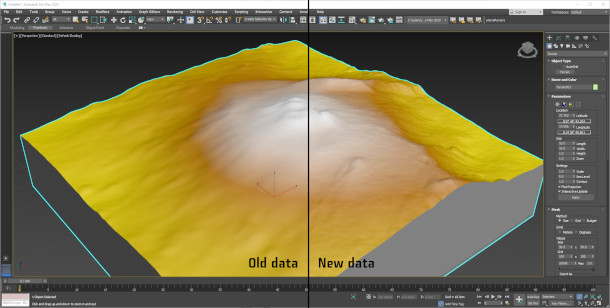 New in the 2021 update: resolve details down to 30m in size for any part of the world
Although Chris West has updated the plugin regularly since its release, most of those updates were simply to support the latest annual updates to 3ds Max.
However the latest release – and the reason that we're updating this story now – should also significantly improve the resolution of the terrain it generates.
Rather than using USGS elevation data, Terrain now uses an unspecified new data source with a resolution of 1 arc-second.
That should mean that it can recreate real-world details as small as 30m in size for its entire area of coverage, not simply for the US, which already used 1 arc-second data.
Pricing and system requirements
The Terrain plugin is available for 3ds Max 2015+. It requires the latest Visual Studio runtimes installed. The price hasn't changed since the original release, with a new perpetual licence costing $199.
Chris West also develops a range of game art tools, primarily for the Unity game engine, including mesh deformation system MegaFiers, spline system MegaShapes and scattering tool MegaScatter.

Read more about the Terrain plugin
Download a trial version of the Terrain plugin (Direct download link)
Tags: , , , , , , , , , , , , , , , , , , , , , , , , , , , , , , , , , , , ,