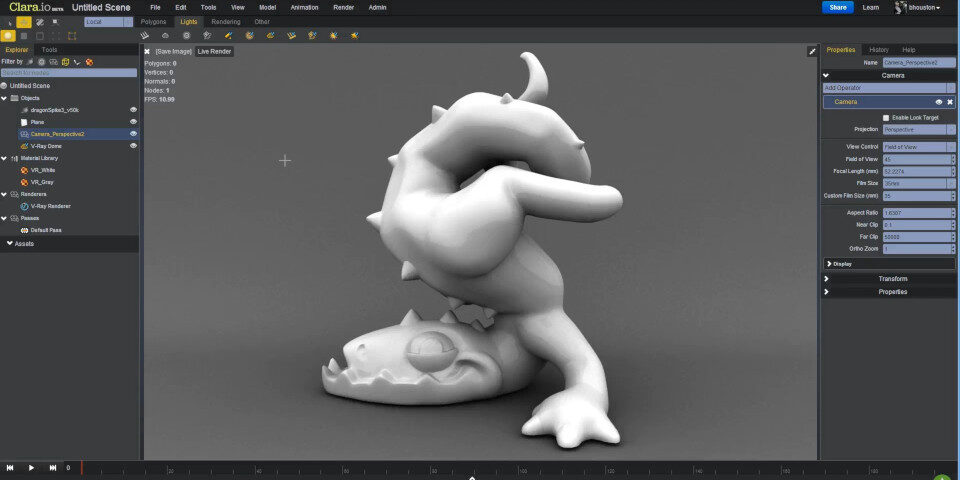 Pioneering browser-based 3D modelling, animation and rendering tool Clara.io is to close on 31 December 2022, just under a decade after it originally launched.
The platform will be shut down on 31 December 2022, along with its supporting services, which include a library of over 500,000 freely downloadable low-poly 3D models.
End of an era for one of the first serious browser-based 3D applications
Launched in 2013, Clara.io was one of the first serious attempts to recreate the functionality of desktop 3D software inside a web browser.
As well as 3D modelling and animation capabilities, it offered integrated V-Ray rendering, with Chaos CTO and V-Ray creator Vlado Koylazov describing it at the time as "amazing".
Clara.io got off to a good start, hitting 100,000 users by early 2015.
However, despite the success of browser-based CAD and product design tools like Autodesk's Fusion 360 and SketchUp for Web, uptake among entertainment and visualisation artists was much slower.
Clara.io's developer, Exocortex, previously mainly a Softimage plugin developer, was also moving out of the market, discontinuing or open-sourcing most of its other tools.
It has now rebranded itself ThreeKit, and develops a 3D product configurator for e-commerce websites.
Last chance to download assets from Clara.io's library of over 500,000 free 3D models
In an email sent to users last Friday, the firm announced that it is "retiring the Clara product and services" on 31 December 2022. Users are advised to download any files they want to keep before access is removed.
As well Clara.io itself, the product website hosts an online library of over 500,000 downloadable low-poly 3D models created by Clara.io staff and users, available under a range of licence types.
As of 6 December, it was still possible to register a new account on the site and download models, which are available in formats including OBJ, FBX and STL, and as .blend files for Blender.
Visit the Clara.io product website
(Registration required to download models)
Tags: , , , , , , , , , , , , , , , , , , , , , , , , ,