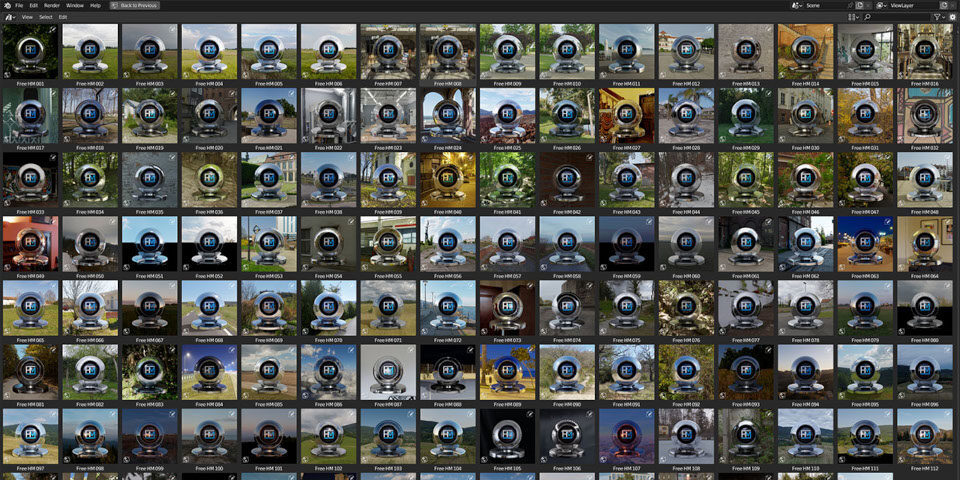 HDRMAPS – aka artist Grzegorz Wronkowski – has released a free library containing 127 4,096 x 2,048px HDRIs optimised for use in Blender's Cycles renderer.
The HDRIs, which are packaged in a Blender scene file, include interior and exterior scenes of both rural and urban environments, shot under a wide range of lighting conditions.
A library of 4K HDRIs optimised for Blender's Cycles renderer
Hi-res versions of the images were already available to download individually from the Freebies section of the HDRMAPS website, which hosts free 10,000 x 5,000px HDRIs.
However, the new library packages them neatly in a single downloadable Blender scene with a shader ball and HDRI environment, ready for generating test renders.
The HDRIs are optimised for use with Cycles, although they can also be used with Eevee, Blender's real-time render engine.
Licence and system requirements
The Blender HDRI Assets library is available free under a Creative Commons CC BY 4.0 licence. It is provided as a .blend file compatible with Blender 3.2+.
Alternatively, you can buy the library for $1 via BlenderMarket to help support HDRMAPs.
There are also over 300 commercial HDRIs available on HDRMAPS, many over 20,000px in width.
Download a free library of 127 Blender-ready HDRIs from HDRMAPS
(Registration required)
Tags: , , , , , , , , , , , , , ,