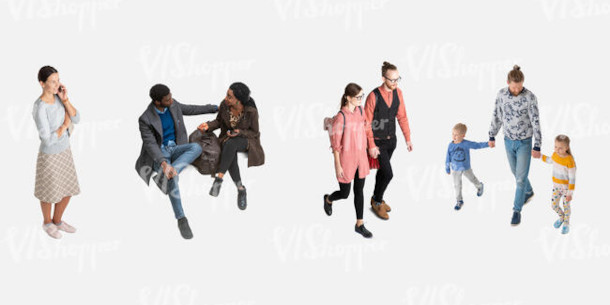 Architectural visualisation asset library VIShopper has released the Bird's-Eye People Collection, a new set of free photographic cutouts of people for use in architectural visualisation and general CG work.
As the title suggests, each of the eight groups of cutout people included in the collection is seen from above, for use in aerial views of a scene.
The people shown are mainly white and dressed casually, but include both adults and young children, in a range of static and motion poses.
VIShopper also sells a range of commercial cutout people, plants and backgrounds, and sky images.
System requirements and licence conditions
The images in the Bird's-Eye People Collection are between 2,900px and 4,900px in width, and are provided as PSD files with contact shadows provided on separate layers. The files are licensed for commercial use.

Download the free photographic cutouts of animals from VIShopper's website
(No registration required)
Tags: , , , , , , , , , , , , ,