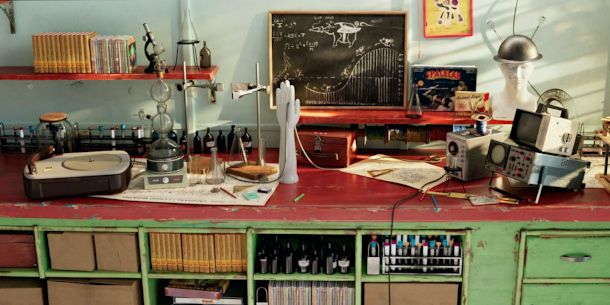 Leading VFX facility Animal Logic has released USD ALab, a free USD asset that company describes as "the first real-world implementation of a complete USD production scene".
The scene – a retro-style mad scientist's laboratory – follows Animal Logic's own USD production workflow, and is the first asset released under the new Academy Software Foundation (ASWF) asset license.
A pioneer in the adoption of the Universal Scene Description for VFX and feature animation
Animal Logic was a pioneer of USD-based workflows in VFX production, having begun to transition its Sydney and Vancouver studios to an end-to-end USD pipeline in 2017 during work on Peter Rabbit.
The studio open-sourced AL_USDMaya, its in-house plugin for authoring and editing USD data at the time, the code for which was later migrated into Maya's new USD plugin.
An alternative to standard USD test scenes reflecting real-world workflows
The new test scene provides an alternative to existing USD demo scenes like Nvidia's Attic sample that Animal Logic says provides a better representation of the way USD is used in production.
The studio describes it as a "full scene description from global assets through to shot outputs, including referencing, point instancing, assemblies, technical variants, global assets and shot based overrides".
In addition, Animal Logic has included "documentation that showcases some … new concepts from our experience using USD, including the idea of render procedural definitions".
The studio says that it hopes that the release will lead to wider adoption of the concept in production.
Licensing and system requirements
The USD ALab scene is a free download, and is available under movie industry open-source standards body the Academy Software Foundation's new asset licence, which permits non-commercial use with attribution.
The scene itself weighs in at 1.0GB, and can be loaded in any DCC application that can import USD files, including Maya, Houdini and Nvidia's Omniverse.
A separate 14.5GB download contains 4K OpenEXR textures for movie production-quality rendering.
Download the free USD ALab production test scene from Animal Logic's website
Tags: , , , , , , , , , , , , , , , , , , , , , , , , , , , , ,