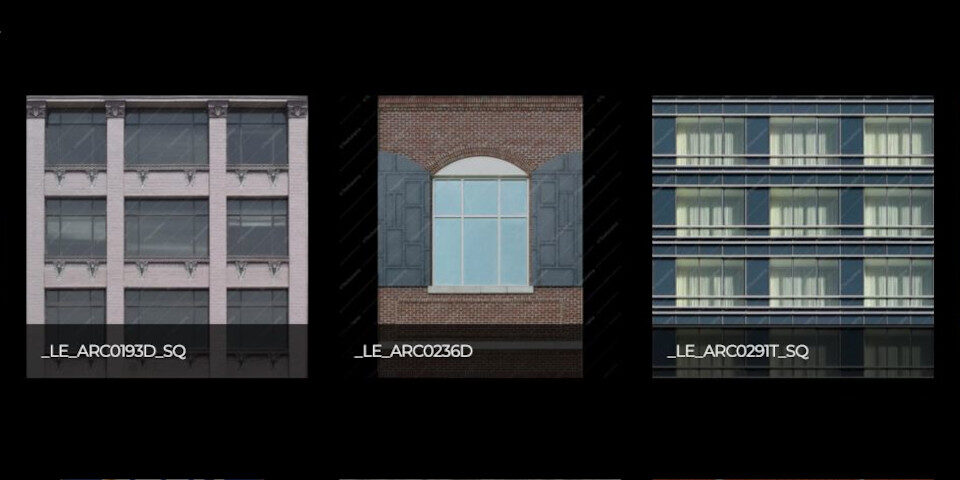 Veteran online texture library Texturama.com has relaunched after several years offline, remastering its entire set of seamlessly tiling textures for use in mixed reality and mobile applications.
Users can download up to 10 sample textures from the library, which focuses on architectural textures, including interior and exterior surfaces, ground materials, and complete building facades.
Over 5,000 lightweight textures designed for use in mobile and XR projects
Launched in 2000, Texturama was one of the original commercial texture collections.
After a few years offline, the site has now relaunched, with its library of over 5,000 textured remastered based on founder Eric Brian Smith's experience working on mobile projects, including real-time VR ads.
The remastered textures follow a "hybrid diffuse-albedo" approach, and represent surface colour, with most of the lighting information removed. The files are provided as 8-bit JPEG diffuse maps.
They are intended for use in mobile, augmented reality and streaming virtual reality projects in which file sizes are strictly limited, and are designed for use in set-ups with only one texture map per material.
For offline work, Texturama recommends using Materialize, Bounding Box Software's free software for generating other PBR texture maps from diffuse textures, although it plans to include normal maps in future.

Includes walls, flooring and ground materials, plus detailed architectural facades
The complete Texturama library includes over 5,000 textures, mainly of architectural surfaces.
As well as common wall, flooring and window materials, there is a large set of building facades, covering both commercial and residential buildings of a range of architectural styles.
The site's Free Samples section includes 50 textures from the collection, of which users can download 10 free for non-commercial use by entering a coupon code at checkout.
Price and licensing
Texturama's free samples are available in JPEG format at resolutions up to 3,072 x 3,072px.
To download them, you will need to register for an account on the site, add them to your shopping cart, then enter the coupon code m5n25cj4 at checkout. The files are licensed for non-commercial use.
Paid subscriptions cost $20/month for 20 download credits per month, or $50/month for 45 download credits per month. You can also buy packs of download credits separately.

Download free mobile and AR-ready texture maps from Texturama.com's Free Samples section
Read Texturama.com's online FAQs, including its licence terms.
Tags: , , , , , , , , , , , , , , , , , , , , ,