Originally posted on 5 December 2018. Scroll down for news of the Flix 6.5 update.
Foundry has updated Flix, its 'story development hub' system for animation and visual effects projects.
Flix 6.0 splits the software into separate server and client applications, "completely overhauls" the UI, improves the annotation, dialogue and search tools, and adds new actions to help automate common tasks.
A 'collaborative hub' for story development
Originally developed in-house at Sony Pictures Imageworks, Flix is intended to enable directors, producers and editors to work collaboratively with artists during story development.
The platform provides a central repository for storyboard images scanned in or created in other software – primarily Photoshop – complete with revisioning capabilities.
Flix then processes and packages those images, converting them to the size and aspect ratio required for the production, and exporting them as automatically generated storyboards.
For generating animatics, Flix provides two-way links to Media Composer, Final Cut Pro and Premiere Pro, plus native tools for timing an image sequence to an audio track or recording voiceovers.
(Note: the software also used to integrate with Maya, although there's no mention of this in the online documentation for Flix 6.0. We've contacted Foundry to ask if this is still the case.)
Now available as separate server and client apps
Foundry describes Flix 6.0 as a "complete re-architecture", overhauling the design of the software and updating the technologies on which it is built.
Under the hood, the biggest change is that Flix has now been divided into two separate applications, Flix Server and Flix Client, making it easier to deploy in large studios.
The update introduces a new database to replace the previous file-based system, a RESTful API to make it easier for studios to customise installations, and new user permissions controls.
The interface has been "rewritten from the ground up", replacing the old Flash-based architecture with one based on HTML5, JavaScript and CSS.
Flix is also now a native desktop app, which should improve access to OS features like the file system, and enables users to have multiple Flix windows open simultaneously when working across multiple sequences.
In addition, there is now a user preferences system, making it possible to customise things like file paths, export formats and how Flix interacts with third-party tools like Photoshop.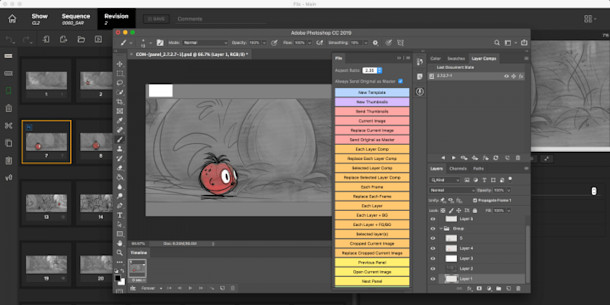 New client features: better Photoshop integration, annotation and dialogue-editing tools
Integration with Photoshop – also a focus of the previous release – has been further improved, with Flix getting its own dedicated Adobe CEP panel within the image editor.
There are also two new Photoshop actions to automate common tasks: Open as Separate Files and Open Current Image, which opens the panel currently selected inside Flix.
Within Flix itself, the annotation tools have been improved, including brush thickness controls and an on-screen colour palette when drawing onto a storyboard panel.
Dialogue management also gets an update, including the option to make dialogue revisions directly within Flix, plus support for text styling and the option to display subtitles in the Player.
Other changes include the option to filter file searches by sequence, artist and date range; and a new export system geared towards exporting multiple versions of storyboard panels simultaneously.

Updated 25 July 2019: Flix 6.1 has been released. The update adds a new round-tripping system with Media Composer, converting a sequence into an AAF file that can be imported into the editing software.
Changes made inside Media Composer to panel timing, effects or audio can be sent back to Flix.
Other changes include a system of clickable keyword-based 'chips' to help generate consistent file paths when exporting assets; and an autosave system.
There is also a new migration tool to automate the migration of Flix 5 projects to Flix 6.1. You can find a full list of changes via the links below.

Updated 28 November 2019: Flix 6.2 is shipping. The update reinstates native support for storyboarding app Storyboard Pro, removed in Flix 6.0, plus a new comments system for managing feedback on boards.
The release also adds a Smart Panel Reuse system, preventing files that have previously been imported from being reuploaded, instead reusing the existing version of the image.

Updated 5 March 2020: Flix 6.3 is out, adding HTTPS (SSL/TLS) as an extra security layer between the client and Flix Server, on top of the existing secure signing and authentication.
The update also streamlines workflow with Avid's Media Composer: in particular, dialogue can be exported as a text file, creating a separate clip for each dialogue entry when imported into the software.
In addition, import performance has been improved: Foundry says that the time taken to bulk-import storyboard panels has been cut "by more than half" since Flix 6.2.

Updated 28 May 2022: Foundry has released Flix 6.4.
The update overhauls workflow for exporting assets, adding a Transfer Queue table to show the progress of background transfers, and making it possible to make changes to a revision while transfers are in progress.
Transfer processes and file imports are also now "10% faster than Flix 6.3".
Users of Storyboard Pro get support for its .sbpz packed project file format, and better round-tripping of panels with camera moves or layer transforms between Storyboard Pro and Avid software.
Other changes include support for compositions with 1:1 and 1:2.2 aspect ratio.
In addition, macOS support for Flix Server is being deprecated, so future versions of the software will be available for Linux only. Flix Client continues to support both macOS and Windows.

Updated 19 January 2023: Foundry has released Flix 6.5.
Key changes include a new permissions management system, which enables admins assign to roles to users across multiple groups and projects.
Other changes include the option to create custom layouts for Contact Sheets.
When editors create new storyboard panels by comping together existing panels, Flix now tracks which source panels have been used, making it easier for storyboard artists to recreate the new panels properly.
Storyboard Pro users get a new panel relinking and versioning system.
Panels are also now versioned automatically when imported manually from apps other than Storyboard Pro, Media Composer, Photoshop and Premiere Pro.
In addition, Flix now supports the CY2022 specification for the VFX Reference Platform, while Flix Client now supports Apple Silicon processors natively, making it the first Foundry application to do so.
Pricing and availability
Flix 6.5 Client is available for Windows 10+ and macOS 10.15+. Flix 6.5 Server is compatible with 64-bit CentOS 7 Linux. The software is only available on subscription, and is priced on enquiry.

Read an overview of the new features in Flix on Foundry's website
Read a full list of new features in Flix 6.0 to Flix 6.5 in the online release notes
Tags: , , , , , , , , , , , , , , , , , , , , , , , , , , , , , , , , , , , , , , , , , , , , , , , , , , , , , , , , , , , , , , , , , , , , , , ,