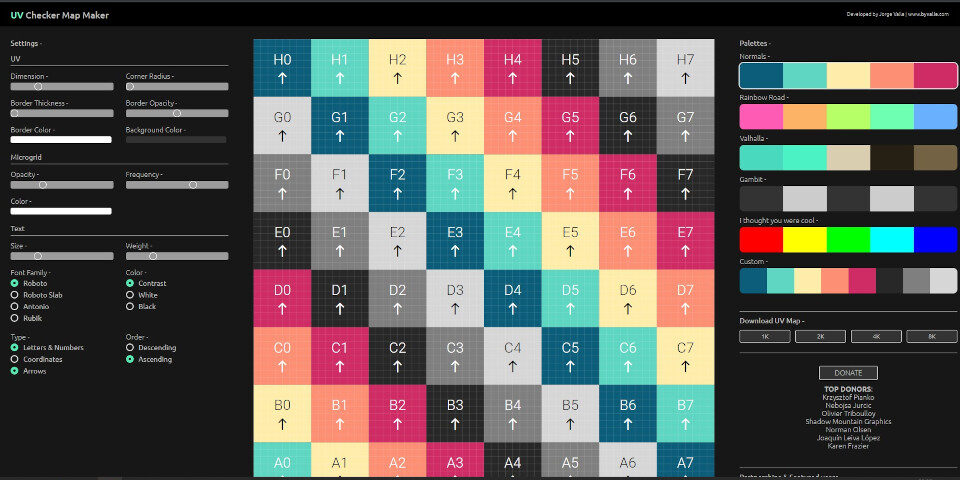 Need to test for texture distortion when UV unwrapping your 3D models? Try UV Checker Map Maker.
The neat free web app, created by industrial designer – and former Weta Workshop senior 3D modeller – Jorge Valle lets you create custom checker maps, and download them at up to 8K resolution for free.
Full disclosure: it launched in 2021, but we hadn't seen it until recently, so we thought it was worth doing a litle story for the benefit of anyone else who hasn't come across it.
Create custom UV checker maps and download them as 8,192 x 8,192px PNG files
UV Checker Map Maker lets you customise pretty much any aspect of a checker map, including the size of the grid and microgrid, the numbering convention (letters and numbers or coordinates), and the colours.
Settings are controlled via radio buttons or on-screen sliders, and there are nice usability options like the one to have the colour of the text change automatically with that of the background for maximum legibility.
Once created, you can download the checker map at resolutions between 1,024 x 1,024px and 8,192 x 8,192px in PNG format.
Pricing and system requirements
UV Checker Map Maker is free to use, although if you like it, you can make an optional donation when downloading maps.
It should run in any modern browser, although we found that the microgrid doesn't display in Firefox, so you're probably best using it in Chrome or another Chromium-based browser.
Use Jorge Valle's UV Checker Map Maker online
Tags: , , , , , , , , ,