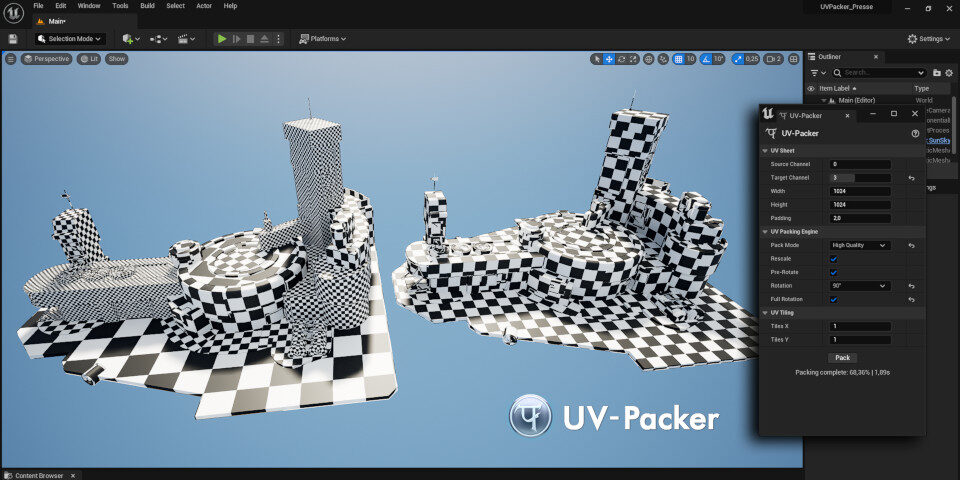 Plugin developer 3d-io has released UV-Packer for Unreal Engine, a new edition of its free UV packing plugin for Unreal Engine 5, the latest version of the game engine.
Designed for "3D artists, game studios, arch viz, photogrammetry … and 3D product designers", the plugin optimises the packing of UV islands for both organic and hard surface models to minimise wasted UV space.
A high-performance automated UV packing plugin for 3ds Max, Blender and UE5
UV-Packer began life as a commercial plugin, with 3d-io making the 3ds Max edition available free on the release of version 3 in 2020. A free Blender edition followed in 2021.
The software automatically arranges the UV islands of a previously UV-unwrapped 3D model to minimise wasted space, reducing total file sizes for sets of texture maps.
It is resolution-independent – so packing times remain constant, regardless of the resolution of the textures – and supports tiled UV layouts, used in applications like ZBrush.
UV-Packer is multi-threaded and, according to 3d-io, is capable of "crunching thousands of UV islands and millions of polygons in minimum time".
Now integrated directly into Unreal Engine, and customisable via Blueprints
The new Unreal Engine plugin makes UV-Packer available directly inside Unreal Engine, from the game engine's Static Mesh Editor.
Users can customise its functionality using Unreal Engine's visual scripting system via a bundled Blueprint.
Pricing and system requirements
UV-Packer for Unreal Engine is available free for Unreal Engine 5.0+ on Windows only via the Unreal Marketplace. For larger studios, a perpetual licence for the UV-Packer SDK costs €5,000 (around $5,390).

Read more about UV-Packer for Unreal Engine on the product website
Download UV-Packer for Unreal Engine free from the Unreal Marketplace
Tags: , , , , , , , , , , , , , , , , , , , , , , , , , , , , ,