Originally posted on 2 November 2022. Scroll down for news of the Forest Pack 8.0.7 update.
iToo Software has released Forest Pack 8.0, the latest version of its scattering plugin for 3ds Max.
The update introduces ForestSet, a helper plugin that acts as a container for scattering objects, plus the option to link to surfaces or areas used in other Forest Objects, making it easier to interlink ecosystems.
The 'ultimate scattering tool for 3ds Max'
Described by iToo as "the ultimate scattering tool for 3ds Max", Forest Pack is designed to distribute objects across a scene: usually plant models, but also rocks, buildings or – as of Forest Pack 7 – lights.
The plugin can generate scenes with hundreds of thousands of scattered objects, with a point cloud display mode to improve viewport response, and the option to convert Forest Pack objects to Max's native instances.
The scattering process is fully parametric, and object distribution can also be controlled by image maps, splines or painting directly onto terrain geometry.
Forest Pack can scatter both static and animated objects, with the option to randomise both texture maps and the time offset of animation cycles, or control them via image maps.
New in version 8.0: Forest Sets create master controls for multiple scatters
Forest Pack 8.0 introduces ForestSet, a free accompanying helper plugin that acts as a container for scene objects, which can then be assigned in Forest Pack as geometry, references, surfaces or areas.
Multiple Forest Objects can share a Forest Set, meaning that multiple scatters can be updated by adding or removing objects from it; and Forest Sets can themselves be nested, for additional organisational control.
Forest Sets can also be used as input when scattering items using 3ds Max's Particle Flow particle system.
Sharing of areas and surfaces makes it easier to create interlinked scatters
Other key changes include the option to link to the areas or surfaces used in another Forest Object, making it possible to create a single parent object that controls all of the scattering areas within a scene.
Parameters like falloff and the scatter objects included can then be set on a per-Forest Object basis.
In addition, other types of areas – including objects and splines – are now supported in UV Surface mode.
There are also workflow improvements when working with Forest Effects, and when rendering with Arnold or V-Ray: you can find a full list of changes via the links at the foot of the story.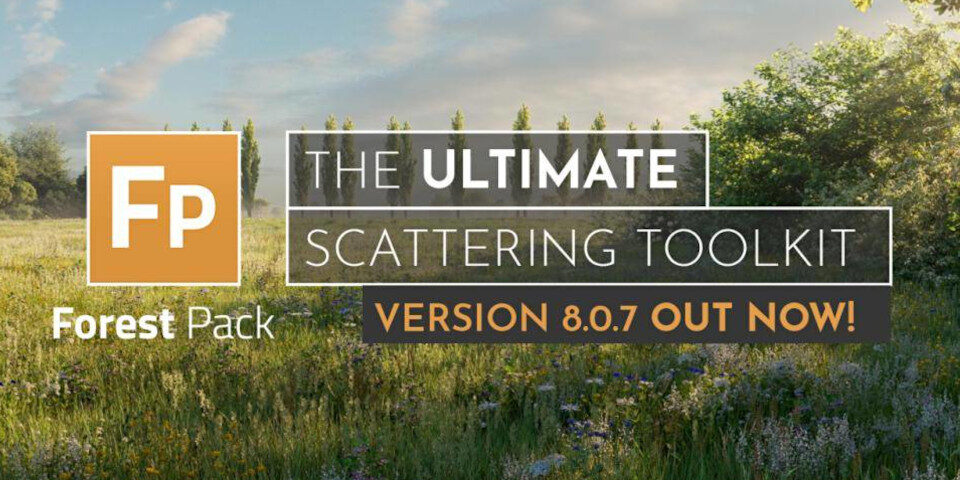 Updated 14 January 2022: iToo Software has released Forest Pack 8.0.7.
It's mainly a performance update, particularly when using the Corona renderer: animated proxies are now only loaded on the first frame, making it possible to scrub smoothly on the timeline.
The new functionality is available when using daily builds of Corona 10, due out later this year.
In addition, Forest Pack 8.0.7 improves performance and stability during interactive renders.
Pricing and availability
Forest Pack 8.0.7 is available for 3ds Max 2013+. You can find a list of compatible render engines here.
New perpetual licences cost $275. There is also a free Lite edition. It's feature-limited, but can be used on commercial projects.

Read a full list of new features in Forest Pack in the online release notes
Read more about Forest Pack on the product webpage
(The download link for the Lite edition is at the foot of the page)
Tags: , , , , , , , , , , , , , , , , , , , , , , , , , , , , , , , , , , , , , , , ,