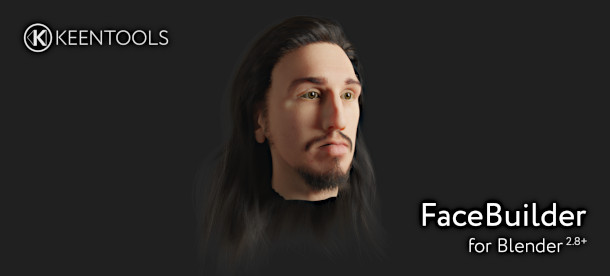 Plugin developer KeenTools has released FaceBuilder for Blender, a new Blender edition of its neat Nuke add-on for creating textured 3D head models from source photos.
The plugin, currently available in open beta, promises to achieve the kind of results inside Blender that would normally only be possible with dedicated photogrammetry software or 3D scan data.
Create accurate 3D reconstructions of live actors from source photos inside Nuke
As with the Nuke edition, users begin by importing photos of an actor into Blender, and adjusting parameters like focal length and aperture on a readymade virtual camera to match the source images.
By placing pins in the viewport, they can then adjust the default facial geometry the plugin generates to match that of live actor. FaceBuilder projects textures from the source photos onto the final 3D geometry.
This demo video shows the process inside Nuke, creating models that would conventionally prove challenging with photogrammetry, including digital heads with facial hair or glasses.
Pricing and availability
FaceTracker for Blender is available as a free beta for Blender 2.80 and above, running on Windows, Linux and macOS. KeenTools hasn't announced a final release date or pricing yet.
Read more about FaceBuilder on the KeenTools website
Read a detailed tutorial on using the free beta of FaceBuilder for Blender
Tags: , , , , , , , , , , , ,