Nekki has released Cascadeur 2022.2, the latest version of its unusual physics-based animation software.
The update – the final Early Access release – adds a new global rotation kinematics type, support for weapons in the Quick Rigging tool, and further extends the AutoPosing tool.
Create animations based on real-world physics, aided by machine-learning-based tools
Launched in 2019, Cascadeur is intended as an artist-friendly alternative to conventional animation tools.
It uses a physics-based approach to animation, with the user establishing key poses for a character, then the software automatically generating plausible-looking motion connecting them.
Even the process of generating the key poses can be partially automated, via a machine-learning-trained system that tracks critical joints in a characters' body: the neck, hips, wrists and ankles.
When one joint is repositioned manually, the software adjusts the positions of the others to match.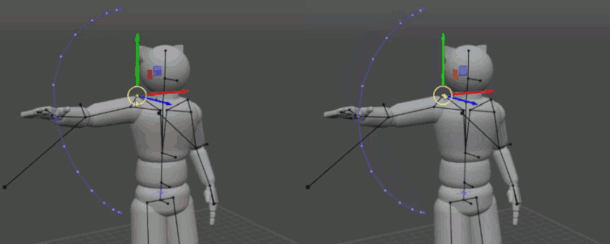 Cascadeur 2022.2: global rotation kinematics in addition to FK and IK
New features in Cascadeur 2022.2 include a new kinematics type for character rigs, global rotation, shown in the right in the image above, with conventional forward kinematics on the left.
Unlike FK, limbs rigged using global rotation do not inherit rotation from their parent body part – in this example, making it possible to repose the character's shoulder without changing the trajectory of the arm.
Updates to the Quick Rigging, AutoPosing and Animation Cycles tools
Updates to existing features include support for weapons in the Quick Rigging Tool, while the AutoPosing Tool now takes account of the positions of a character's neck and pelvis.
The Animation Cycles system gets the option to offset the position of the animation each time it is looped.
Customise the interface by detaching windows and dragging them to new positions
Workflow improvements include the option to customise the layout of Cascadeur's user interface by detaching and repositioning individual windows, and combining multiple panels into a single tabbed panel.
It is also now possible to import video files directly into Cascadeur for use as animation references. You can find a full list of changes via the links below.
Pricing and system requirements
Cascadeur 2022.2 is available for Windows 7+ and Ubuntu 20.04+ Linux.
The software is free to individuals or teams with revenue under $100,000/year, although animation export is capped at 300 frames per scene and 120 joints per scene.
Pro subscriptions have a standard price of $300/year, and remove export restrictions. Business subscriptions, which also ensure priority support, cost $1,000/year.
In both cases, after having subscribed for a year, users can continue using the software as a perpetual licence, even if they later cancel their subscription.
At the time of writing, commercial subscriptions are available at a discount during the software's early access period, although this will end with the next update.

Read an overview of the new features in Cascadeur 2022.2 on Nekki's blog
Read a full list of new features in Cascadeur 2022.2 in the online changelog
Tags: , , , , , , , , , , , , , , , , , , , , , , , , , , , , , , , , , , , , , , ,