Nvidia has announced pricing for Omniverse, its new 'open collaboration system' for 3D production, currently available in free public beta.
Access will cost $1,500/user/year, plus either $25,000 or $250,000 for the central Nucleus server, when Omniverse Enterprise, the paid version, launches later this year.
However, the Omniverse platform and "some of the base functionality" will remain free for individual artists.
Nvidia also provided more information about the upcoming Omniverse connection plugin for Blender, and announced new connections for Reallusion's Character Creator, Marvelous Designer and CityEngine.
The announcements were made at GTC 2021, Nvidia's online technology conference, alongside Grace, its new data center CPU, and eight new professional Ampere GPUs for workstations, laptops and servers.
A cloud-native collaboration platform aiming to become 'the Google Docs for 3D design'
When it was first announced at GTC 2020, Nvidia CEO Jensen Huang described Omniverse as "essentially the Google Docs for 3D design".
The platform enables users anywhere in the world to collaborate on 3D projects via the internet.
The set of cloud-enabled apps enable users to see changes made to shared 3D assets by other artists, working in other software, in a livestreamed photorealistic real-time view.
As well as enabling multiple users to view an asset, Omniverse handles version control for any edits made.
A modular system comprising proprietary software and links to third-party DCC tools
Omniverse has a modular structure, with components including Nucleus, its server-side services, Kit, its framework for viewing and editing scenes, and Connect, which connects the software to other DCC tools.
The platform comes with its own photorealistic render engine, RTX Renderer, which taps into the hardware-accelerated ray tracing capabilities of Nvidia's current-generation RTX GPUs.
As well as the Omniverse core, Nvidia has released frontend applications targeted at particular tasks, including Omniverse Create for scene layout and editing, and Omniverse View for scene review.
We wrote about the architecture of the platform and its underlying technologies when the open beta launched last year, so check out this story for more details.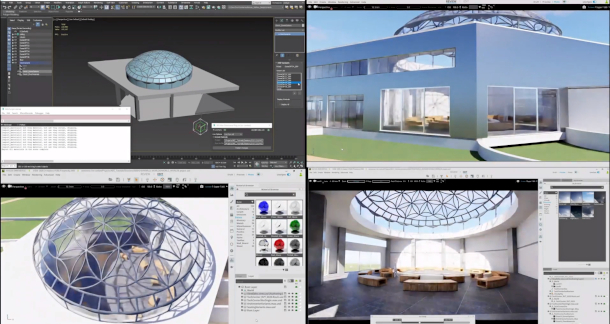 Omniverse Enterprise: prices start at $1,800/year/user, plus the cost of a Nucleus server
The paid version of Omniverse, Omniverse Enterprise, will consist of subscriptions providing access to Create, View, the DCC connection plugins and the RTX Virtual Workstation software.
Omniverse Nucleus servers, which manage the shared user database, will be priced separately.
Nvidia has announced two pricing packages, aimed at medium-sized and large organisations.
The first, aimed at groups of up to 25 users, will cost $1,800/year/user plus $25,000 for the Nucleus server; the second, aimed at 500+ users, will also cost $1,800/year/user, plus $250,000 for the server.
Both will include "enterprise-class support".
However, Nvidia GM Richard Kerris told CG Channel that "we plan to always have Omnniverse for individuals be a free tool. That would include the platform and some of the base functionality."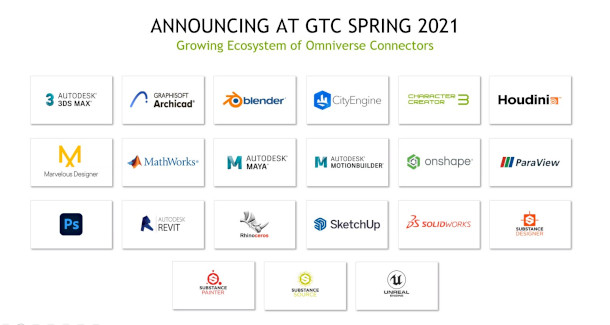 Connection plugins for Blender, Character Creator, CityEngine, Houdini and Marvelous Designer
Nvidia also announced more details of the connector plugins for DCC applications, which currently include 3ds Max, Maya, Revit, Rhino, SketchUp and Unreal Engine.
Connectors for Houdini and Blender are coming "later this year".
Nvidia tells us that the Blender connection will initially be available via a custom build of the open-source 3D software, available from the Omniverse Launcher app.
A separate plugin will provide integration with standard builds of Blender.
In a press briefing last week, the firm also showed a slide listing upcoming connectors for other DCC tools: Reallusion's Character Creator, clothing design tool Marvelous Designer, and city generator CityEngine.
Availability and system requirements
Omniverse Enterprise is due to launch in summer 2021. You can find pricing details in the story above.
Omniverse is currently available as a free public beta for Windows 10 and CentOS 7/Ubuntu 18.04 Linux. It requires a current-gen Nvidia RTX GPU. You can find system requirements for the integration plugins here.
Omniverse Create and View can be installed from the same installer as Omniverse itself. Create is available for Windows 10 and CentOS 7/Ubuntu 18.04 Linux; View for Windows 10 only.

Download Nvidia's free public beta of Omniverse
Read more about the Omniverse platform in the online documentation
Read more about Omniverse Create in the online documentation
Tags: , , , , , , , , , , , , , , , , , , , , , , , , , , , , , , , , , , , , , , , , , , , , , , , , , , , , , , , , , , , , , , , ,