Originally posted on 20 January 2016. Scroll down for details of the Aton 1.3 update.
Lighting TD Vahan Sosoyan has released Aton, a free 'Arnold to Nuke display plugin' that makes it possible to render using Arnold directly into Nuke's user interface.
The plugin is designed for use in a Maya and Arnold pipeline, but could be "easily extended to work with other DCC apps which have Arnold support", like Softimage, Houdini and Cinema 4D.
Integrates MtoA's IPR directly inside the Nuke interface
Aton integrates the native interactive preview renderer of MtoA (that is, Arnold for Maya) directly inside Nuke. Changes made to the Maya scene are displayed in real time within the IPR view inside Nuke.
AOVs generated by Arnold are available as Nuke channels, and there is the option to overrride properties like resolution, anti-aliasing and motion blur without changing the global settings inside Maya.
Renders can be captured in any supported image format, with the option to display selected render views as thumbnails on nodes in Nuke's node graph, with custom comments.
The plugin supports region rendering via Nuke's Crop node.

Updated 26 April 2016: Vahan Sosoyan has released Aton 1.1, adding support for Linux.
The 1.1 update adds support for multiple frames, enabling a sequence of rendered frames to be cached in a single Aton node; plus the option to capture all of the rendered frames as an image sequence.
If you are rendering multiple frames, a new toggle function enables you to select whether Aton will cache AOVs, reducing memory usage.
Other changes include the option to create multiple Aton nodes in a single Nuke script, or run renders from multiple instances of Maya simultaneously; and improvements to the Frame Stamp functionality.
You can read a full list of changes in the description to the demo video on Vimeo.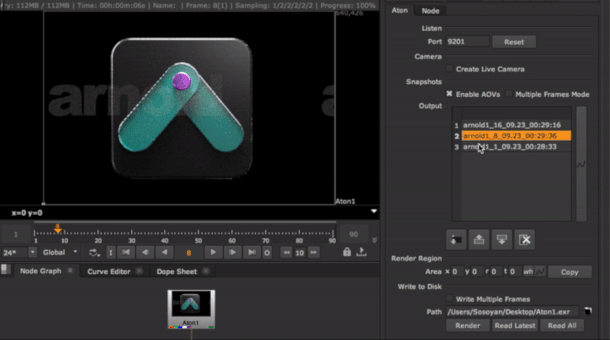 Updated 24 September 2018: Vahan Sosoyan has released Aton 1.3.
The update adds a new Auto Snapshots feature, with each IPR session now being kept automatically in memory, creating a stack of 'snapshots' that can be renamed, reordered or permanently written to disk.
Region rendering has also been updated: it's now possible to drag handles in the viewer to define the render area, rather than having to use a Crop node.
Aton 1.3 also introduces initial support for Houdini as well as Maya and Cinema 4D – the latter added as a host package since we last covered the software, in the Aton 1.2 update.
Pricing and availability
Aton is available free under a BSD licence for Windows 7+, OSX 10.6+ and Linux GCC 4.2.1+. As of version 1.3, binaries are compiled against Nuke 10.5/11.2 and Arnold 4.2/5.0/5.2.
To compile Aton yourself, you'll need Nuke 9.0v7+ SDK, Arnold 4.2.0.8+ SDK and C++ library Boost 1.54+.

Download Aton from the plugin's GitHub respository
(Includes installation instructions)
Tags: , , , , , , , , , , , , , , , , , , , , ,